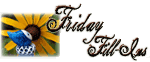 1. Give me
comments
and I'll
return the favor
.
2. Whenever
I need to concentrate my mind starts to wander
.
3. I wish
I was finished with my homework for the week
.
4.
My In N Out Burger
was the last thing I ate that was utterly delicious.
5. To live in this world
you have got to be crazy
.
6. Other than this one,
Holy Mackerel
is the last blog I commented on.
7. And as for the weekend, tonight I'm looking forward to
getting the kids to bed so I can have my quiet time
, tomorrow my plans include
finishing laundry and keeping things simple while my nephew is staying with me
and Sunday, I want to
go to Tucson
!