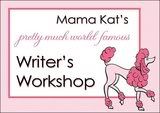 Since I love MamaKat I just can't stay away from her Writer's Workshop....
I had a hard time choosing a prompt...

1.) Write a mock interview with a celeb of your choosing. Take advantage of having the power to make it go however you dream.
I'm just not that clever.

2.) Describe your worst winter weather story.
I've lived in Az, Tn & Ca..I do not have any interesting winter weather stories.
3.) Tell us about that scar.
Again, I do not have any noticeable scars...even my stretchmarks are uninteresting...

4.) A list of dos and don'ts.
For me? my kids? my husband?? I need a little more info here. Do not post prompts without precise directions. I need blog for dummies. Do, however, follow my blog :)

5.) Write a poem to your love for Valentine's Day. :)
I always seem to do the poems...but if I was to write a poem for my love on Valentine's Day I would have to keep it private ;)

So, you see my dilemma?? I did try though!