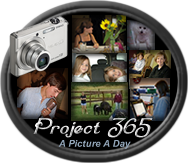 My quest for 1 pictures a day is back!
I had a bit of camera trouble at the start of the year, but with my new camera in tow I am ready for the challenge!
So here is week 7--45 weeks to go!

Startin em young.
dinner & a movie
Spinning.


daily.task.
Watch out for the scary monster!
K & Mom taking a pic at Gulf Coast Grill