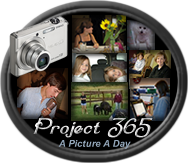 Here's an update for my 365 Blog, I missed 2 days this week...oops!
I also have to remember to take my camera with me EVERYWHERE otherwise I end up with too many bedtime shots! :)
Week 8 - 44 weeks to go...
Sunday

I ♥ living in San Diego
Today I wore the shirt & necklace I received for running in the
Mermaid Run 5k
on 2/13/10
Thursday

not feelin' so good...
So, this was my week in pictures. Check out my
365 Blog
for daily updates!